Paula Rego is a painter, reknown for her uncanny ability to tell often disturbing stories through her images. Born in Lisbon in 1935, she has been residing in London since 1976.
I had the good fortune of meeting Paula, the Fall of 2002, when she visited UPenn to deliver a slideshow-lecture.The tiny old lady that stood behind the lectern, seemed rather unthreatening till she started to talk about her life and work. Behind every other line was a poignant innuendo about sex or anger and jealousy that revealed an unbelievably fiesty and delightfully sinister woman.
After the lecture, I asked if she would like to have coffee with me and to my surprise she aggreed without question. (Bear in mind that she is one of my favorite artists and her agreement to spend time with me, left me sleepless for the 3 following days).
In a 2hour intense discussion over well-caffeinated lattes, we talked about gender and sexual politics, personal histories and hierarchy, men and women and desire and passion and animals and words and symbols....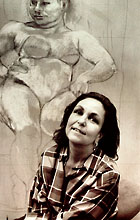 Paula Rego. Photo by Jane Brown.
"My favorite themes are power games and hierarchies. I awlays want to turn things on their heads, to upset the established order, to change heroines and idiots. If the story is "given" I take liberties with it to make it conform to my own experiences, and to be outrageous."
The Barn
Finger
cover for the Complete Graphic Works (Rosenthal)
"If you put frightening things into a picture, then they can't harm you. In fact, you end becoming quite fond of them." Paula Rego
| | |
| --- | --- |
| | |
| | "HIM", Etching, 1996 The Crow |
Links:
paula rego: main site, gallery, biography, etc
Paula Rego Online : Artcyclopedia resources
Pictures on the wall. : 13 paintings
BBC - BBC Four - Audio Interviews - Paula Rego : Biography & Interview